I got an idea in my head that I would walk all the streets in downtown Concord as a way to get three miles in. Copying the idea from Rickey Gates who ran every street in San Francisco. Since I can't run, yet, I decided I would walk (without dogs). I don't count mileage when I walk dogs. 
Today I decided that on this walking tour I would listen to my new playlist I just created for April. I started from my house and headed to downtown. I walked up and down the streets: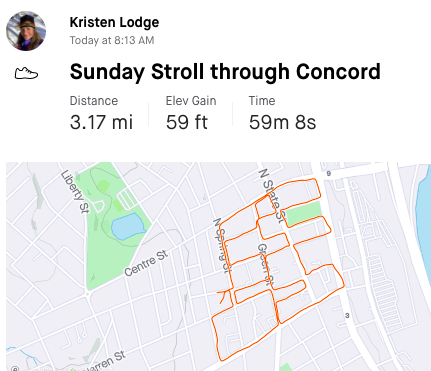 I decided to take some pictures of the beautiful buildings and some trees.
My playlist was pretty awesome.
Girl from the North Country – Bob Dylan and Johnny Cash.
I recently watched Escape at Dannemora and this song played during a dramatic scene. Plus the lyrics are pretty awesome and I love the North Country. "So, if you're travelin' in the north country fair, Where the winds hit heavy on the borderline, Remember me to one who lives there, She once was a true love of mine."
Time to say goodbye – Andrea Bocelli
Change – John Waite
From the soundtrack Vision Quest – just love this song. "It doesn't matter who you are It's all the same. What's in your heart will never change"
Pretty – Ingrid Michaelson
"I'm not just pretty, No, I'm pretty damn good, Sure in my own skin, Again and again and again."
Roll Me Away – Bob Segar
Pretty much my anthem: "Stood alone on a mountain top, Starin' out at the Great Divide, I could go east, I could go west, It was all up to me to decide."
Shallow – Lady Gaga and Bradley Cooper
"Tell me somethin', girl, Are you happy in this modern world? Or do you need more? Is there somethin' else you're searchin' for?"
When You Were Young – The Killers
This is my all time favorite Guitar Hero song to play. "Can we climb this mountain, I don't know Higher now than ever before, I know we can make it if we take it slow."
My Body – Young the Giant
This is a great song to run to but alas, I walk: "My body tells me no! But I won't quit 'Cuz I want more."
He Knows – Jeremy Camp
"He knows. Every hurt and every sting. He has walked the suffering. He knows."
Just be Held – Casting Crowns
This is one of my favorite songs. Beautiful: "There's freedom in surrender. Lay it down and let it go. So when you're on your knees and answers seem so far away, You're not alone, stop holding on and just be held."
Nothing Compares 2 U – Chris Cornell version
I just discovered this version by Cornell that is on the playlist. I like the Sinead O'Connor version but I can't listen to it. "It's been seven hours and sixteen days, Since you took your love away." Here's the O'Connor version:
Colorful – The Verve Pipe
The Chris Cornell song reminded me of this song that was on the Rock Star soundtrack so I added it to the playlist. I just love the final scene in the movie when this song plays.
Happy Sunday.