As I was browsing I Run Far's website I saw a few articles I wanted to read with titles such as Hope, My Own Running Dog and I Miss You.
As I read a few lines from all of them for some reason I got the poem by Alfred Lord Tennyson in my head.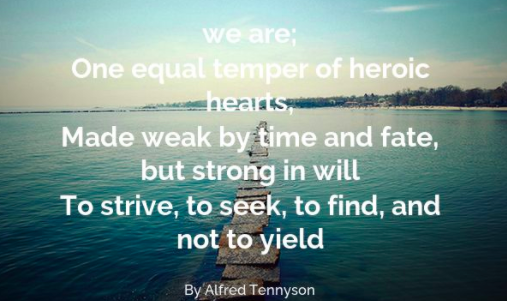 I actually remember the lines from the movie One Week when Josh Jackson gave me a tour of grief and the Canadian landscape, and an AWESOME soundtrack by the way.
So I reflect on my life with those bold words: To Strive, To Seek, To Find and Not To Yield.
You see, I was body-healthy throughout February and March and didn't train; my head wasn't in the right place. 
Then April came and I was ready in the head then I sprained my ankle, now I'm body-unhealthy. 
I can't win.
I'm making the best of it with walking and biking as much as I can. I've been eating too much and gained my 15 pandemic-pounds but I'm ready to get back at it. I'm ready. I have another week of body-healing and then – boom – I'm back on my 100 mile training plan. I think the crazy Goldie-dog is going to be a good running partner on the trails.
There is so much to be hopeful about. I'm ready to be hopeful and happy.  
Although, maybe it's not in our hopes but in the struggle that we find a life. In Tennyson's poem, Ulysses when read in its full force makes me think that maybe it is time for a new adventure.