The second weekend in a row that there were all-day road trips that took me to places I've never been. Last week was western Maine and this weekend the lakes region in New Hampshire.
On Saturday Jeff and I planned to go to at least two breweries: Kettlehead Brewing Company in Tilton and Woodman's Brewery in Bristol.
Winnie came along for the ride too.
We met Kendra and her boyfriend at Kettlehead and had a great time trying new beers. I had the Shuttlebus Rye IPA and the others tried flights of different beer. I forgot to take a picture of us.
Then Jeff I I headed north to hike off the calories to find that the trail we were hoping to hike was closed: Rattlesnake Mountain. Bummer. So we decided to drive to Meredith, get some coffee and walk around. This is the southern tip of Lake Winnipesaukee and normally it is bumper to bumper traffic, according to Jeff.
But it is March so there wasn't much traffic. The day was sunny and in the 50s. A perfect day for a road trip.
Then we headed to Bristol to find the Woodman's Brewery, a very rural-type tap room. We lost cell service in Bristol and need to actually ask for directions. Once we found it – it was indeed rural up a hilly paved road, then the driveway was a hilly-muddy dirt round. I had the Subaru so we made it just fine. And, boy, was it worth it.
The people were fantastic and I was able to bring Winnie inside.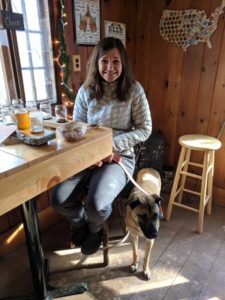 It was a good road trip followed by some great Vegan food at Hermanos back in Concord.
Today, Sunday, I spent the morning with my parents, went to church with my Mom and then we walked on the beach in Rye. It was the first time I can remember that there were big seashells on the sand. I brought a few home to remember the day.
Happy Easter everyone!