After living in Colorado and Arizona for the last 13 years I never needed rain boots.
After moving back to New Hampshire in February and several continuous days of rain it was time to buy rain boots.
I bought these LL Bean Wellies by chance at the LL Bean Outlet in North Hampton. With rain in the forecast for the next four days, they have become an essential.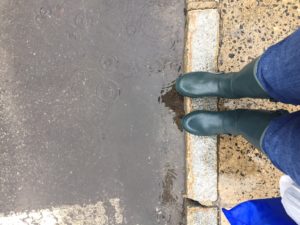 Speaking of taking care of your feet, after this morning's run I remembered that I should wear my compression socks to aid recovery from the street pounding.
I'm a big fan of Smartwool. My socks are the Standup Graduated Compression Socks. I don't wear them as much as I should so these I've had for about two years and still hold up; meaning they really help soreness.
I'm glad I put them on this morning, and wore them all day at work, because I don't feel so sore tonight. I'm slowly building mileage for my A Race – Jay Peak Trail Running Festival in September. I'm signed up for the 53.1k Ultra. I've finished a 50K in February 2013 and had a DNF during a 50K in November 2014. I'm ready to try again.
This blog is about ultra running in New Hampshire although I'll be racing around New England. I was signed up for a 50 Mile race in Arizona in March 2017 and deferred to 2018 so I have an even bigger race next year.
The reason I started this blog is to write about ultra running as I get older and to share tips and strategies for training and nutrition. I'm 46 and started running and racing triathlon over 10 years ago. It's harder to recover now, yet I still have ambitious goals for racing and competition. Racing is a relative term: I'm not fast. I like competition and finishing races in new places. I rarely raced the same event twice.
Thank you for reading and please come back again.